St.Nicholas Fair- November 19,2022
The Saint Nicholas Fair will once again return after a two year hiatus! It will be on November 19, 2022 from 9:00-3:00. There will be Vendors with beautiful handmade items for your Holiday Shopping. The Elf Cafe will sell homemade soups and sandwiches, Mrs. Clause's Baked Goods will be available to satisfy your sweet tooth and everyone loves St. Nick's Cookie Walk.
The Sign-Up Genius Link to volunteer to bring items for the fair or to volunteer to help is below.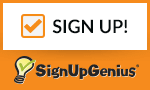 Email Maggie at [email protected] or Lorrie at [email protected] with questions.
---